SEC Baseball has always been a distant third to most SEC fans after football and basketball. Of course SEC football games are in its own orbit in terms of attendance and interest. Baseball has made dramatic strides in the last 20 years due to a variety of reasons including televised games the SEC tournament in Hoover and of course, more emphasis placed by the member schools on facilities and staffs.

Prior to the late 1980's when SEC teams started being mainstays in Omaha, therefore
jump starting
interest conference wide, SEC baseball was merely a sports filler after the end of basketball season (or spring football,as the case may be) and summer and the upcoming start of football season. Poor facilities, coaches 'multi-tasking' long before that term became vogue, quirky conference scheduling and playoff formats that were rather tame and generated little to no enthusiasm contributed to lack of interest.
However, that's not to say that prior to the
SEC's
onslaught of Omaha that the league was devoid of talented players, successful coaches and high profile athletes that more time than not made their mark in a sport other than baseball. During
LSU's
title run last year, ESPN and other media outlets marveled at
LSU's
"two sport stars" Chad Jones and Jared Mitchell from the Tigers' football squad. Whereas it is somewhat rare today for a player at a "
BCS
type" school to play two sports , until 1980 it was very common ,if not expected for some players. Many SEC baseball players excelled in football or basketball and carried their skills from those sports to the professional level. And some of the coaches from that era were well known in sports circles for things other than their head coaching tenures at SEC schools.
Two sport stars Jared Mitchell (left) and Chad Jones helped

LSU

to its sixth

CWS

title in 2009.This tandem was part of a

BCS

championship with the Tigers in 2007.
Whether one is an SEC fan or not, Auburn's Bo Jackson is certainly regarded as one of the best two sport athletes,ever , regardless of any conference affiliation. After winning the Heisman Trophy in 1985, he played pro baseball before playing in the NFL in 1987. Jackson was the first player to make an All-Star team in two major sports. Not only was he named to the 1989
MLB
All-Star team, he was the game's MVP. Jackson also made the Pro Bowl after the 1989 season with the Raiders. A surprising number of other SEC players over the years who were stars in basketball or football also were outstanding baseball players in college, as well.
Bo knew All-Star games in 1989 playing in the

MLB

All-Star game and the Pro Bowl
Even today the 1958 NFL title game between Baltimore and New York is referred to as "The Greatest Game in NFL History", probably
more so
for what it led to in terms of the
NFL's
popularity. Nonetheless, that game is a seminal moment in
all
sports. Among the players that day in Yankee Stadium were Baltimore's Bert
Rechichar
and New York's Charlie
Conerly
.
Rechichar
played
collegiately
at Tennessee and was an All-SEC player in Center Field for the Vols' 1951 SEC Champions and first SEC team to make the College World Series where they finished second to Oklahoma. The Giants' quarterback that day,
Conerly
, played for Ole Miss where he was named consensus All-American at halfback in 1947. He followed that up in the Spring hitting .467 for the Rebels' baseball squad.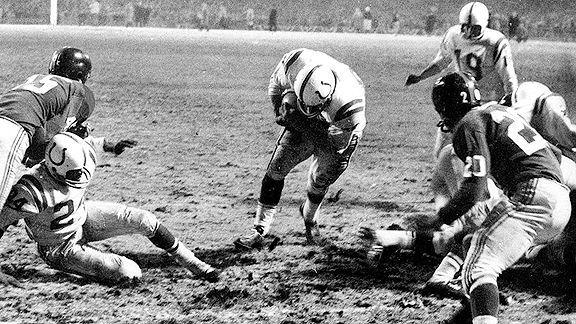 "The Greatest Game Ever ",also known as the 1958 NFL title game, featured two SEC players who starred in college baseball as well as football,Baltimore's Bert

Rechichar

of Tennessee and New York's Charlie

Conerly

of Ole Miss
As a member of the Southeastern Conference, Georgia Tech was the SEC's representative in the 1960 NCAA basketball tournament where the Yellow Jackets were led by two time All-American Roger Kaiser. Kaiser also was an All-SEC selection in 1959 as a right fielder for the Tech baseball team which won the SEC's Eastern Division title that year. Mickey Andrews, who went on to fame as Bobby Bowden's intense defensive coordinator was an outstanding football player himself for Bear Bryant's 1964 National Title team making second team All-American. Andrews was also an All-SEC outfielder for the Tide in 1964

Georgia

Tech's

Kaiser (l) and Alabama's
Mickey Andrews were All-Americans in basketball and football respectively and both were All-SEC baseball selections.


After leading Ole Miss to a win in the 1968 Liberty Bowl over
VPI
, Rebel quarterback Archie Manning helped lead the 1969 Rebel Baseball team to the SEC title as well as a trip to Omaha as Ole Miss finished 5
th
at the College World Series. Manning was offered a baseball contract out of high school in 1967, but chose to attend Ole Miss on a football scholarship. Manning was named All-SEC shortstop in his junior season in 1970.
Archie helped lead Ole Miss to the 1969 SEC title and a trip to Omaha for the

CWS
The early and mid 1970's was the end of the multiple "multi-sport stars" in the SEC who were stars in either football or basketball as well as baseball.
LSU's
Gerald
Keigley
was an All-SEC
WR
for the Tigers in 1972 and followed that up with being named All-SEC utility player that Spring in 1973.
Keigley
played SS and 3B for
LSU
and led the Tigers in one or more seasons in at-bats, hits, doubles, home runs,
RBI's
and batting average.
Bert Jones' initial target in the 1972 Ole Miss-LSU game was 1972 All-SEC WR and 1973 All-SEC baseball player, Gerald Keigley.

The Tennessee Volunteers' baseball squads in the early and mid 1970's probably had as many 'multi-sport' stars as any school. In fact the 1974 Vols were led by Rodney Woods from Ray Mears' basketball team and Tommy West and Condredge Holloway from Bill Battle's football team. All three made All-SEC in baseball and Woods and West made second team All-SEC in their respective sports. Holloway was ,and remains, one of Tennessee's most celebrated athletes.Holloway was the first black starting quarterback in the SEC when he took the field in September 9, 1972 in Atlanta against Georgia Tech, who was also led by a black quarterback, the more controversial Eddie McAshan making that game the first in Southeastern history played by two major schools each starting a black quarterback. Holloway led the Vols to a 34-3 victory and was named All-SEC QB in 1973 and three time All-SEC baseball player making All-American his senior year.

In addition to being the

SEC's

first black starting QB and All-SEC in '73, Holloway was a three time All-SEC baseball player making All-American in 1975
Adolph
Rupp
had several of his basketball players over the years lend their services to Kentucky's baseball fortunes. Some of these players had almost, or even more success on the diamond than they did on the court. Cotton Nash all SEC honors in baseball to go along with his All-SEC and All-American honors in basketball. Nash played for the
Lakers
and Warriors before heading to the ABA to play for the Kentucky Colonels. He also had a "cup of coffee" with the White
Sox
and Twins in 1966 and 1967. Dickie Parsons started off and on for
Rupp's
basketball squad and twice made All-SEC as a shortstop for Kentucky's baseball team.Wallace "
Wah
Wah
" Jones is the 'only' Wildcat to have his jersey in the rafters at
Rupp
Arena
and
name on the ring of fame at Commonwealth Stadium. Jones also lettered one year for the UK baseball team.
Frank Ramsey of Kentucky may have been the original "two sport star" in the SEC. Ramsey's Kentucky career was nothing short of remarkable. Ramsey made All-SEC as a
LF
all three years he suited up for the baseball Wildcats. He also made All-SEC as a guard for the 'Cats all three years as well in addition to being named basketball
All-American
all three years.





Kentucky's Frank Ramsey (left) and Cotton Nash were All-SEC baseball players as well as All-American basketball players
Like football and the basketball runs of Kentucky,Florida and Arkansas and others from time to time, SEC baseball is the cream of the crop nationwide. It hasn't always been but even in the early days, there were some tremendous players.